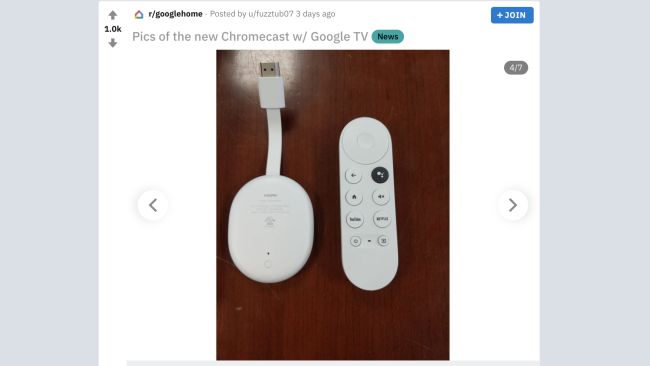 Google's new 2nd gen Chromecast device has been leaked once again, but this time we've been gifted a detailed look at the TV dongle's hardware, remote and user interface. The news is all thanks to Redditor u/fuzztub07, who was apparently able to buy the unannounced "Chromecast with Google TV" dongle early from a local Walmart.
Is there anything we don't know or haven't seen at this point? Dude picked it up at Home Depot for $50. https://t.co/YiPh6RL42d pic.twitter.com/t2mr4o15iF

— Dave Zatz (@davezatz) September 28, 2020
Other leaks that have come to our attention so far suggest the dongle will cost just under $50 in the US, though a better way to think about it would be to say it's cheaper than the current Chromecast Ultra.
With multiple leaks showing off the design of the dongle, it seems clear that this is going to be Google's flagship home entertainment device for the foreseeable future, though the cheaper basic Chromecast may well stick around as a more affordable option.
Further Reddit posts suggest the device is running Android 10 out of the box and comes with 8GB of storage on board, so you won't be able to store a huge amount of movies and music on here. There are also shots of the revamped Google TV software design.
All is going to be revealed this coming Wednesday, when we're also expecting an appearance from the Pixel 5 and the Pixel 4a 5G, and maybe a new smart speaker too
---