Why is it important that your business has good website design?
A quality website helps you build that first impression. It is a bridge to connect with your customers, a first point of contact with your target audience.
A website's scope is pretty broad, and your business should leave no stone unturned to leverage its potential. Especially considering the paradigm shift in the way customers connect with brands, a website has a significant role to play. Moving from one store to another has been replaced by browsing from one website to the other.
Therefore, a user-friendly, sleek, and catchy website is the need of the hour. It has a pivotal role to play in boosting your conversion rates. Moreover, engaging and delighting with your users' post-conversion will give your business an impetus in the digital space.
Website Design & Development Services
Here is a list of Website design and development services we've designed for you.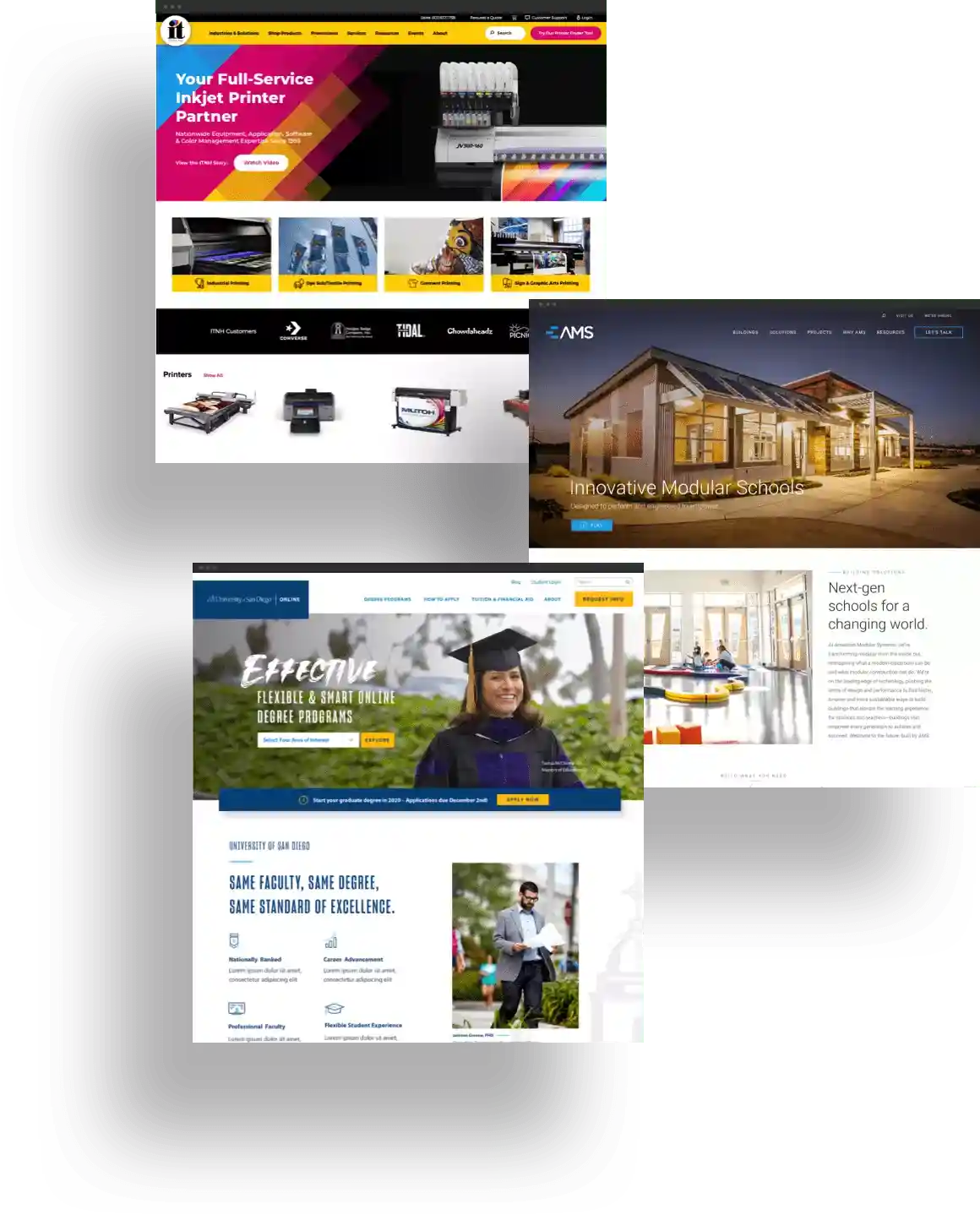 Affordable Website Design & Development
To effectively engage your audience, your website should reflect a strong digital visual identity. Creating a captivating user journey and a positive first impression can help you nurture leads and increase conversions. Streamlining the browsing experience for your users can ultimately increase the likelihood of making a sale. In short, a seamless user experience is key to boosting your website's effectiveness.
The websites we produce are clean and fresh, each uniquely designed. Furthermore, we endeavor to ensure all our sites meet the accessibility standards demanded by the World Wide Web Consortium. Our websites are tested in the most commonly used browsers at different screen resolutions.
Frequently Asked Questions
Get answers to commonly asked questions about our website design services, empowering you to make informed decisions and gain clarity on how our expertise can elevate your online presence.
What is the process for website redesign at Mercury?
The website redesign process at Mercury typically involves a discovery phase to understand your goals and requirements, followed by wireframing, visual design, development, and testing. We ensure regular communication and collaboration to deliver a successful redesign.
Can you provide examples of website design projects you have completed in the past?
Yes, we can provide you with a portfolio showcasing our previous website design projects.You can see examples of our work on our website or request specific case studies related to your industry.
What technologies and platforms do you use for website design?
We are proficient in using various technologies and platforms, starting from static websites, headless solutions, and standard CMS integrations including WordPress, Shopify, HubSpot, Webflow, Craft, Contentful and more. Our team selects the most suitable technologies based on your specific project requirements and goals.
How long does a typical website design project take from start to finish?
The duration of a website design project depends on the complexity and scope of the project. We provide estimated timelines during the initial project planning phase and work diligently to complete the project within the agreed-upon timeframe.
Will you make sure the website looks and functions well on mobile devices?
Yes, we prioritize responsive design in all our website redesign projects. We ensure that the redesigned website is mobile-friendly and optimally adapts to various screen sizes and devices for an enhanced user experience.
How do you ensure the designed website will be optimized for search engines (SEO)?
Our website design process includes implementing best practices for on-page SEO. We optimize page titles, meta descriptions, heading tags, URL structures, and other relevant elements. Additionally, we ensure clean and semantically structured code, fast loading times, and responsive design—all factors that contribute to good search engine visibility.
Do you offer ongoing website maintenance and support after the design is completed?
Yes, we offer ongoing website maintenance and support services post-design. We provide different maintenance plans that include regular backups, security updates, content updates, bug fixes, and technical support. We can discuss the available options to find the one that best suits your needs.
Can you assist with website analytics setup and tracking?
Absolutely! We can help set up website analytics, such as Google Analytics, to track key performance indicators (KPIs) and provide you insights into user behavior, traffic sources, conversions, and more. This data can be used to make informed decisions and continuously improve your redesigned website.
If I have a specific design in mind, can you accommodate custom design requests?
Yes, we can accommodate custom design requests. Our team is skilled in translating your vision and specific design requirements into a unique and personalized website. We encourage open communication during the initial stages to understand your design preferences and incorporate them into the redesign.
Get your free 30 minute strategy session with an experienced digital marketer
There is no cost or no conditions to this, it is literally a FREE' strategy session, this can be through video call or right here in our office.